NOW ALSO TAKEOUT MENU AVAILABLE
We closed Sundays & Mondays during summer (July, August and 1st week of September)
We hope you and the ones near you are doing well. We are all doing well and we are working hard to adapt to the new reality, tough as it may be.  Fortunately we can welcome you from 1st. We look forward to seeing you !
We run a special 3 course take out menu for €35.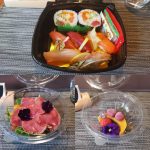 Our Take Out Menu consists of sashimi and sushi, don-buri and 3 course menu. To make your dinner even more special we offer a selection of our fine sakes with a discount to our restaurant price.
The sashimi and sushi dishes are as you are used to but with a 10% discount.
The don-buri are rice dishes, lavishly topped of with delicacies like tempura or Iberico loin or salmon sashimi and salmon roe.
We hope you will enjoy it and look forward to welcoming you !
Ken Osawa – Chef
Ryuji Ikemizu – Host
EN Amsterdam
Japanese Kitchen & Sake Bar
Dusartstraat 53h
1072HP Amsterdam
tel 020 470 36 66
Beste Japanse Restaurant Amsterdam
best Japanese restaurant Amsterdam